You are here
Back to top
The Greatest Song of All: How Isaac Stern United the World to Save Carnegie Hall (Hardcover)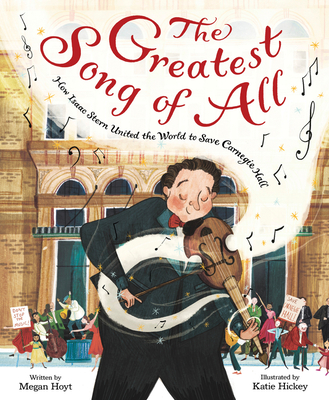 $18.99

Usually Ships in 1-5 Days
Description
---
From the acclaimed author of Bartali's Bicycle comes the inspiring story of violin virtuoso Isaac Stern and his mission to save the beloved Carnegie Hall from demolition.
When Carnegie Hall first opened its doors in 1891, no one could have predicted its incredible success. With talented artists like Duke Ellington and Albert Einstein gracing its stage, the hall quickly became a place where all people—no matter their skin color, religion, or social status—could come together under one roof to be entertained.
People like Isaac Stern. The son of Jewish immigrants who fled war-torn Ukraine for America to escape the Holocaust, Isaac was a talented violinist whose dream of one day performing on Carnegie Hall's legendary stage came true, many times over. So when a real estate tycoon sets out to demolish Carnegie Hall, Isaac knew something had to be done to preserve decades of hopes, dreams, and inclusivity.
Author Megan Hoyt and illustrator Katie Hickey tell the true story of one man's fight to save a historical landmark whose timeless symbol of equality will forever stand the test of time.
About the Author
---
Megan Hoyt first fell in love with reading on a cozy branch of the crab apple tree outside her Texas home. She devoured Beverly Cleary's books there, and Marguerite Henry's "horsey books" still remind her of the loud Texas cicadas at dusk. Bartali's Bicycle is Megan's debut picture book biography. Her first picture book was Hildegard's Gift, and her poem, "Thanksgiving by the Lake," appears in the anthology Thanku: Poems of Gratitude. When she is not writing, Megan tutors child actors on set for Disney, Warner Bros., Showtime, and Cinemax, among others. She lives in Charlotte, North Carolina, where most days she is surrounded by three fluffy pups and piles upon piles of picture books. Visit Megan online at www.meganhoyt.net.
Katie Hickey is an illustrator whose work deals with both the narrative and informational realms, often combining the two. A graduate of Falmouth University in foggy Cornwall, England, Katie frequently takes inspiration from her travels and surroundings to create characterful and atmospheric images.
Praise For…
---
"A precious glimpse into an important moment in history. It is a true love letter to Carnegie Hall, and should have a place on all shelves."  — School Library Journal (starred review)
"The book documents this history while at the same time acknowledging the importance of musical education and Carnegie Hall's modern role in that pursuit. The digital illustrations enhance the text perfectly, capturing the grandeur of performances and the diversity of New York and its citizens. You'll be shouting 'Bravo!'" — Kirkus Reviews
"Hoyt pays tribute not just to the renowned violinist but to a unique cultural institution that has hosted many luminaries. Young readers will doubtless be left duly appreciative of both. Compelling." — Booklist
"In clear, engaging text, Hickey's finely detailed digital cartoons place Stern in the spotlight, capturing his ceaseless energy and stalwart efforts. His message—'When you believe in something, you can move mountains!'—is a good one for children to hear, and this story is a great way to introduce the famous fiddler and his favorite performance venue to the next generation of music lovers." — Horn Book Magazine