You are here
Back to top
Annie Glover is NOT a Tree Lover (Hardcover)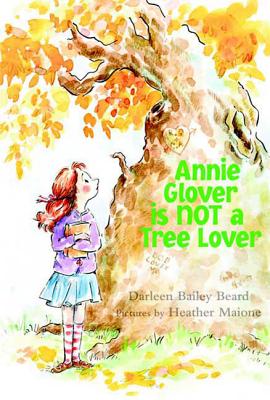 $18.99

Usually Ships in 1-5 Days
(This book cannot be returned.)
Description
---
Annie Glover's grandma is always protesting something, but she goes too far when she chains herself to a century-old tree and names it Elmer. Elmer is scheduled to be cut down to make way for a new swimming-pool complex and Grandma is trying to save him, but Annie wants that swimming pool—and so do all her classmates. Now she must endure all the other fourth graders asking her embarrassing questions and that pesky Leroy Kirk calling her a "tree lover." However, as Annie considers what Elmer means to her town and to herself, she begins to think that maybe Grandma's not so crazy after all.

Adorable illustrations perfectly capture Annie's scheme to save Elmer—with the help of her teacher, her best friend, a zany trio of parachuting Elvis impersonators, and, yes, even Grandma.
About the Author
---
Darleen Bailey Beard

Growing up in the 1960s in Levittown, Pennsylvania, I was a foot taller than all my friends. My nickname was "Chicken Legs." I was terribly shy. And more than anything, I wanted to be good at something, but I had no idea what my "something" would be.
Like most kids, I tried the usual -- pressing leaves in dictionaries, pogo-stick jumping, raising"sea monkeys," and selling Girl Scout cookies. I also tried the unusual -- riding my bicycle with a bag over my head, convincing the neighbor kids to eat dryer lint by telling them it was cotton candy, kissing frogs, and collecting used Band-Aids.

Then, in fifth grade, at Herbert Hoover Elementary School, Mrs. Jacqui Schickling entered my life and introduced me to a whole new world -- writing. My classmates and I started a school newspaper called The Hoover Hotline. We wrote book reports, pen-pal letters, and stories with our spelling words. When Mrs. Schickling asked me to stand in front of the class and read my stories, I shook, terrified, but oh so very proud. And when she asked us to write and illustrate our very own books, I thought I had died and gone to fifth-grade heaven!

In spite of how much I enjoyed writing, I didn't read much as a child. Though the Little House on the Prairie books by Laura Ingalls Wilder are my favorites, I didn't read them until I was in my early twenties. I still remember when Laura's dog, Jack, died. I was working as a receptionist and read that chapter on my lunch hour. I was so caught up in the book that I didn't even want to breathe. My heart was pounding and I cried my eyes out. When I went back to work, the office manager saw my red face and thought something terrible had happened. Of course, it had, and I tried to tell her about Jack dying but started crying all over again!

I graduated from the University of Oklahoma in 1986, with a degree in Professional Writing. One of my professors once gave me a C and wrote on top of my term paper, "Anything worth getting is worth busting your butt over." At first, I was angry. I thought, "How rude!" But through the years I have often remembered that term paper and my professor's message and have come to realize he was absolutely right. Everything worth getting does take a lot of hard work to achieve. I remind myself of this when I have to edit and edit and edit my books before they go to print.

I spend much more time editing my books than writing them. Writing is the easy part. It's fun and thrilling -- like being an actress. I put myself into each of my characters' shoes. If they're crying, I'm crying. If they're laughing, I'm laughing. But editing takes time and caution. When I first started writing books, I hated editing. I would spend days and days writing, then spend only a few minutes editing. But through the years, I have learned that editing is my friend. I have to work really hard to make sure all the technical strings have been tied, that my characters are real and believable, and that the conflict is all wrapped up in a satisfying conclusion. And the only way I can do this is through editing.

Watching my manuscripts grow and develop into something more than I originally created is very rewarding and fun and sometimes surprising. Like when Elden Larrs in The Babbs Switch Story showed up in the train depot and kissed Ruthie. I had no idea he was going to do that. How he sneaked in there and puckered up his lips is beyond me. But I like when my characters surprise me. And often they will say things that surprise me, too!

My friends feel they hear my voice when they read my books. After The Flimflam Man first came out, several called and commented, "When your characters speak, it's like listening to you talk." I didn't realize how much of myself I put into my characters, but with each book I write, I see myself more and more. I see my alter egos hidden in there, too.

Last school year, I was invited to over 120 schools, festivals, universities, and writing conferences all across the nation. I also do author-in-residence programs, where I teach children and adults how to become better writers. When I'm not on the road or writing and editing, I enjoy stenciling, decorating, gardening, reading, and antiquing. I like to visit small towns and dig up interesting stories to use in my books. I love going to museums, doing research, and asking questions. Questions are the creative link to my soul.

I share my life with my two precious kids, Spencer (who loves fishing) and Karalee (who loves drawing and making things); a dog, Sparky (who will sneeze on command); assorted fish (who keep dying -- my kids and I call our fish tank the Tank of Doom!); and a seventeen-year-old cat, Crybaby (who likes to lie on my books when I'm reading them).
Heather Maione
grew up on Long Island, New York, and she received her Bachelor of the Arts at University at Buffalo, The State University of New York. She has always loved art, design, and doodling. She has illustrated many books for young readers, including
How Oliver Olson Changed the World
by Claudia Mills.