You are here
Back to top
Parting the Waters: America in the King Years 1954-63 (Paperback)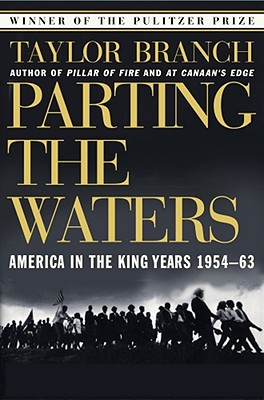 $25.00

Usually Ships in 1-5 Days
Description
---
In Parting the Waters, the first volume of his essential America in the King Years series, Pulitzer Prize winner Taylor Branch gives a "compelling…masterfully told" (The Wall Street Journal) account of Martin Luther King's early years and rise to greatness.

Hailed as the most masterful story ever told of the American Civil Rights Movement, Parting the Waters is destined to endure for generations.

Moving from the fiery political baptism of Martin Luther King, Jr., to the corridors of Camelot where the Kennedy brothers weighed demands for justice against the deceptions of J. Edgar Hoover, here is a vivid tapestry of America, torn and finally transformed by a revolutionary struggle unequaled since the Civil War.

Taylor Branch provides an unsurpassed portrait of King's rise to greatness and illuminates the stunning courage and private conflict, the deals, maneuvers, betrayals, and rivalries that determined history behind closed doors, at boycotts and sit-ins, on bloody freedom rides, and through siege and murder.

Epic in scope and impact, Branch's chronicle definitively captures one of the nation's most crucial passages.
About the Author
---
Taylor Branch is the bestselling author of Parting the Waters: America in the King Years, 1954-63; Pillar of Fire: America in the King Years, 1963-65; At Canaan's Edge: America in the King Years, 1965-1968; and The Clinton Tapes. He has won the Pulitzer Prize and the National Book Critics Circle Award.
Praise For…
---
David Levering Lewis The Philadelphia Inquirer Endlessly instructive and fascinating, thorough, stupendous. Now the source and standard in its field.

Robert C. Maynard The Washington Post Book World In remarkable, meticulous detail, Branch provides us with the most complex and unsentimental version of King and his times yet produced.

Richard John Neuhaus The Wall Street Journal A compelling story, masterfully told.

Jim Miller Newsweek A masterpiece ... remarkably revealing.... The past, miraculously, seems to spring back to life.

Garry Wills The New York Review of Books Already, in this chronicle, there is the material of Iliad after Iliad...There is no time in our history of which we can be more proud.

Robert Wilson USA Today Superb history.