You are here
Back to top
A Hero Like Me (Hardcover)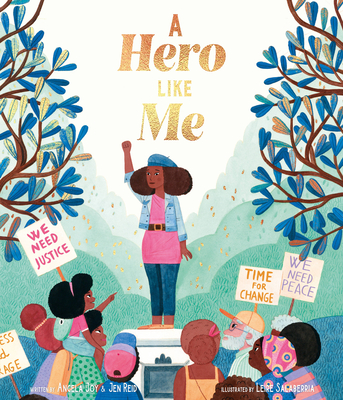 $18.99

Usually Ships in 1-5 Days
Description
---
Empower children to stand up for what is right with this picture book inspired by the real-life events around the statue of a slave trader, its toppling, and heroic replacement.
 
They call him "HERO," but he's no HERO—not to me.
 
A Hero Like Me is inspired by the events of June 7, 2020, in Bristol, England, when a statue of seventeenth-century slave trader Edward Colston was pulled down and thrown into Bristol Harbour during an anti-racism protest. Co-author Jen Reid was one of the protesters that day, and despite being afraid of heights, she spontaneously climbed onto the empty plinth and raised her fist high above her head—a moment that was captured on camera and shared around the world.
 
On the morning of July 15, a statue of Jen by Marc Quinn was added to the empty plinth. It was called A Surge of Power and it gained national attention for the 24 hours it was in place, and beyond. 
 
This inspiring picture book tells the story of these events through the eyes of a little girl who, every day, on her way to school, sees a towering statue. A statue of a man who sold freedom for cotton and tea. The world around her says this man is a hero. But she knows he's not a hero—not a real one.
 
Heroes are hard to find. She looks for them around corners, under rocks, and on TV, but there are none that she can see. And so, the little girl marches and shouts for them instead. And that statue—he doesn't belong. He doesn't stand for Kindness. He doesn't stand for Peace.
 
Maybe he shouldn't stand at all.
 
A Hero Like Me empowers children to have courage to stand up for what is right and be their own hero. It shows every child that they have a voice in their community and a say in who is on their streets. That they too have power, just like Jen.
About the Author
---
Jen Reid grew up in the historic city of Bath, the youngest daughter of Windrush immigrants. Her experiences of racism growing up were first-hand. From being the only Black child in her local primary school in the 1980s, where Jen fully understood what it was like to face inequalities and where racial slurs were commonplace, to moving to London in the 1990s and facing the daily microaggressions that black women suffer in the workplace, throughout her life, Jen has experienced the everyday racism that is ingrained in our society.
Angela Joy was born and raised in Minneapolis, MN. Before graduating Summa Cum Laude from the University of Minnesota, she attended New York University and Spelman College. Angela traveled extensively as a background vocalist, also working in television and movie soundtracks. She uses lessons learned in music to write lyrical poetry for children, including Black Is a Rainbow Color and Caldecott Honor Book, Choosing Brave: How Mamie Till-Mobley and Emmett Till Sparked the Civil Rights Movement. She lives in Southern California with her husband and two children, yet will always consider Minneapolis home. Angela's next book, Ordinary Days: The Seeds, Sound, and City that Grew Prince Rogers Nelson is due for release in Fall, 2023.
Leire Salaberria was born in Andoain (Spain) in 1983. Currently, she lives and works in San Sebastián. She has majored in Fine Arts in Bilbao and studied a postgraduate in Children Illustration in Barcelona. Leire has exhibited her artwork in different countries around the world. Her work has been selected to appear in Bologna Children's Book Fair 2012, IV Ibero-American catalog of illustration 2013, 2014, and the Sharjah International Book Fair 2013, 2014. Since 2011, when she published her first book, she's illustrated several books in Italy, Mexico, and Spain. At the moment, she continues to illustrate children's books, which is her favorite type of work.
Praise For…
---
"A fictionalised retelling of the events of 7th June 2020, when a statue of Edward Colston was toppled into Bristol Harbour and author Jen Reid became a symbol of change."—The Bookseller

"A fictionalised retelling of the events of 7th June 2020, when a statue of Edward Colston was toppled into Bristol Harbour and author Reid became a symbol of courage and power."—The Bookseller - Black Issue

"Jen Reid's defiant gesture defined the Bristol protests. Now she's inspiring the next generation."—The Big Issue

'The book asks us to think about who our heroes are and how we celebrate them, because the choice of who we place on a pedestal matters to the children, and the adults, who walk beneath them.' —Juno Magazine

"A Hero Like Me should have as wide a readership as possible ... extraordinary and unreservedly recommended..."
 —Midwest Book Review