You are here
Back to top
On Broadway: From Rent to Revolution (Hardcover)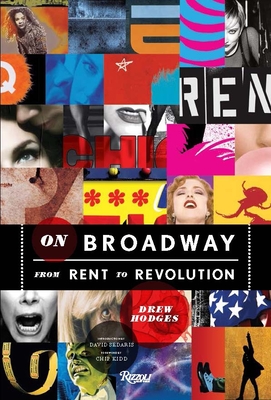 $45.00
Email or call for price
Description
---
A visual and oral history of the past twenty years of theater, On Broadway pulls back the curtain to reveal the creative process involved in bringing a Broadway show to the stage and into the public consciousness through the words of Broadway's most famous personalities and the art of SpotCo. The art created for a show provides audiences with a tangible, visual, and emotional connection with the theatrical experience. This collection of hundreds of behind-the-scenes photos, concept art, and posters, as well as personal anecdotes by and with some of Broadway's most beloved stars, including John Leguizamo, Berry Gordy, Alison Bechdel, Lin-Manuel Miranda, Mark Ruffalo, Patrick Stewart, Bernadette Peters, Joel Grey, Harvey Fierstein, Sting, Dolly Parton, Neil LaBute, Cherry Jones, and more serves as the document of record of the shows and performers that have graced New York stages for the past two decades. Stories and art cover working with Jonathan Larson's family and the producers on the campaign for Rent; Nicole Kidman on her decision to bare all during her photo shoot for The Blue Room; selling the hip-hop Hamilton; and collaborating with the legendary Kander and Ebb on their revival of Chicago, in addition to stories about shows such as Annie Get Your Gun, Young Frankenstein, Freak, Avenue Q, Shrek, Pippin, Elaine Stritch: At Liberty, Gypsy, and Kinky Boots.
About the Author
---
Drew Hodges is the founder of SpotCo.

David Sedaris is the internationally renowned author of books including Naked, Me Talk Pretty One Day, and Let's Explore Diabetes with Owls.

Chip Kidd is a preeminent designer and author.
Praise For…
---
"The secrets of Broadway theatre are laid bare in this lush coffee-table book . . . As titles pop and colors snap on the page, it's like looking at a behind-the-scene history of the Broadway scene. This is a delight for theatre lovers and anyone interested in the artistic design process itself." 
-PUBLISHERS WEEKLY

"[On Broadway] is a revelation. One of the best I've ever seen on our passion - the theatre. Elegant, insightful, personal, and just plain gorgeous."
-JOEL GREY

 "Peek behind the curtains at some of the most colorful - and brilliant - marketing razzle-dazzle to ever light up the New York nighttime sky in Drew Hodges' On Broadway: From Rent to Revolution, a lovely coffee-table book bursting with color, overflowing with photos and packed with stars, and all about bringing Broadway's biggest shows to life in the past 20 years." 
-PARADE MAGAZINE

"Filled with more stars and backstage stories than an opening night party at Sardi's, On Broadway: From Rent to Revolution shines a spotlight on the last 20 years of hits!" 
-ART DAILY 

"A full-service extravaganza of a coffee-table book that reveals how Broadway has changed the cultural conversation. Brimming with insider dish from on- and offstage talent, On Broadway unveils a treasure trove of previously unseen posters and provocative promotional campaigns, a delightful what-if of alternate realities for now-iconic shows. Its behind-the-scenes anecdotes and strategies give fascinating insights into how the some of Broadway's most intriguing projects unfolded, and the twists and turns beloved and controversial shows took on their path to (mostly) success."
-THE HUFFINGTON POST

"On Broadway is a fascinating history of Broadway theatre. Drew Hodges has done a wonderful job of collecting hundreds of posters and ads as well as memories in one place to build the story of Broadway. . . The book is so beautifully manufactured with hundreds of stunning photographs that it's a pleasure to hold it in your hands." 
-THE WASHINGTON BOOK REVIEW

"For many people, name a show and the first image that pops to mind is the poster. On Broadway turns the creation of those posters into a thumbnail sketch of the Great White Way for the past two decades. It's a reminder that working in the theater can mean a lot more than just performing on stage - anyone with a passion for theater can find a role they're suited for, from being the 'suit' (legal representation) to an artist that captures the spirit of a show in a poster." 
-StageNotes.net

"Drew Hodges's visual and oral history of Broadway's best productions is a must-have for musical-theater geeks. Illustrated with posters and Playbill artwork (2004's La Cage aux Folles is a highlight), [On Broadway is] an insightful peek into the staging of the unforgettable - and forgotten - shows of the past two decades." 
-OUT.com

"A perfect addition to the coffee table of every theater lover, [On Broadway] is full of photographs, posters, concept drawings and personal anecdotes from stars of the stage. SpotCo, the ad agency responsible for promoting many of the biggest theatrical campaigns of the past two decades, offers an intimate glimpse into the design process that captures the spirit of a show and captivates theatergoers."
-M&V Magazine
 
"On Broadway: From Rent to Revolution is more than a picture book for your coffee table. Written by Drew Hodges, the founder of Broadway advertising agency SpotCo - the place that works tirelessly to translate the meaning of a show to theatregoers looking to buy tickets - the tome takes readers through 20 years of theatre (in show posters)."
 -Playbill.com

"The creators of artwork used to promote Broadway shows are often unheralded, even though they create images that forever endear audiences to their respective productions. Now, with the publication of this lush coffee table book by design firm founder Drew Hodges, these creators finally get their due. On Broadway: From Rent to Revolution traces the last 20 years of Broadway through interviews, photos, and art - highlighting the visuals behind hits from Chicago to Kinky Boots to Hamilton."
-METROSOURCE