You are here
Back to top
Putting It Together: How Stephen Sondheim and I Created "Sunday in the Park with George" (Paperback)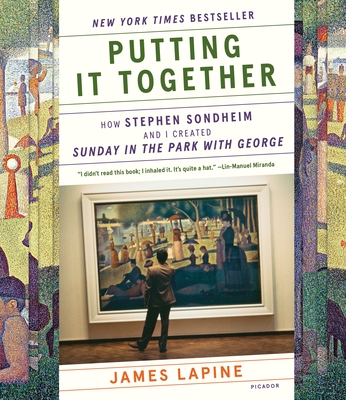 $25.00

Usually Ships in 1-5 Days
Description
---
A NEW YORK TIMES BESTSELLER

A behind-the-scenes look at the making of the iconic musical Sunday in the Park with George

Putting It Together chronicles the two-year odyssey of creating the iconic Broadway musical Sunday in the Park with George. In 1982, James Lapine, at the beginning of his career as a playwright and director, met Stephen Sondheim, nineteen years his senior and already a legendary Broadway composer and lyricist. Shortly thereafter, the two decided to write a musical inspired by Georges Seurat's nineteenth-century painting A Sunday Afternoon on the Island of La Grande Jatte.

Through conversations between Lapine and Sondheim, as well as most of the production team, and with a treasure trove of personal photographs, sketches, script notes, and sheet music, the two Broadway icons lift the curtain on their beloved musical. Putting It Together is a deeply personal remembrance of their collaboration and friendship and the highs and lows of that journey, one that resulted in the beloved Pulitzer Prize–winning classic.
About the Author
---
James Lapine is a preeminent director, playwright, screenwriter, and librettist. He is the recipient of three Tony Awards for Best Book of a Musical (Passion, Falsettos, Into the Woods), as well as nine Tony Award nominations, five Drama Desk Awards, a Pulitzer Prize in Drama, and a Peabody Award, among other honors. He has also been inducted into the Theatre Hall of Fame and is a recipient of the Mr. Abbott Award for lifetime achievement in theater.
Praise For…
---
Named a Best Book of the Year by Air Mail and NPR

"James Lapine's fascinating and rigorous, no-punches-pulled investigation . . . into what surely must be one of the most unlikely and chaotic journeys to a Pulitzer Prize and a place in the highest echelons of the American musical theater canon . . . [Putting It Together] is actually a story of artistic steadfastness, revealing as much about the ultimate work as the experience the participants endured while making it." —Alan Cumming, The New York Times Book Review

"Putting It Together is the richest backstage memoir I know that concentrates on the work itself. If you want to learn what it's like to put on a professional show, Mr. Lapine's book tells pretty much everything, organized by who does what . . . Best of all are the conversations in which Mr. Lapine and Mr. Sondheim admit you to their workshop, sharing memories that illuminate their creative process like a flash of lightning." —Terry Teachout, The Wall Street Journal

"Just as Lapine and Sondheim's musical masterpiece Sunday In The Park With George chronicles the sacrifice and struggle in the art of making art, so too does Putting It Together capture the painstaking, bit-by-bit, piece-by-piece energy of creating a new musical. Most astonishing to me are the depth and frankness of Lapine's interviews with his many collaborators: from his tentative first steps writing with Sondheim to wary producers and personality clashes with actors, Lapine lets everyone tell their side of the story, the entire journey to the stage on the page. It's the most thorough and engaging chronicle of a burgeoning life in the theater since Moss Hart's Act One. I didn't read this book: I inhaled it. It's quite a hat." —LIN-MANUEL MIRANDA

"This lovely, lively portrait in time of how a musical was made, bit by bit by its makers, is irresistible. Lapine's pointillist approach, applied in interviews with all the distinct characters whose input colored and created the work, paints an indelible picture of the captured moment. Sondheim's achievement, its process revealed, still gleams with the mystery of art. How does he do it? I loved it." —MERYL STREEP

"[Lapine] paints a vivid portrait of a bygone era, one that was already slipping away . . . Along the way, Lapine offers plenty of gossip for those seeking it . . . but he also provides an unvarnished portrait of a lucky alchemy that allowed artistic hubris to triumph over the quotidian . . . Now those who helped that show find its voice are sharing their memories of the time, and making Putting It Together an indispensable addition to the libraries of theater lovers." —Mark Peikert, Rolling Stone

"Luminous . . . In a captivating oral history Lapine revisits his experiences writing and directing Sunday in the Park with George . . . from Lapine's and Sondheim's early, inchoate brainstorming sessions to desperate last-minute rewrites when preview audiences hated the second act . . . This is a fascinating 360-degree panorama of showbiz at its most intense and creative." —Publishers Weekly (Starred review)

"Delicious . . . Putting It Together is a blast of theatrical oxygen, reminding us, as Sunday in the Park did, that creating art is messy and difficult and not to be taken for granted." —Kathy Henderson, American Theatre

"Wonderful . . . the story of how one musical came about . . . [and] a primer on everything that goes into making a musical, from costuming to orchestrating." —Joe Westerfield, Newsweek

"When I was 19, I read the lyrics of 'Putting It Together' to my mother, to say that this is what I wanted to do with my life, even though I had no idea of what 'this' might be. I couldn't sing like Mandy Patinkin, I couldn't compose like Sondheim, I couldn't write or direct like James Lapine. But, like Seurat's hat, that play was a window from this world to that and with this book, I can finally see how they put it together." —STEPHEN COLBERT

"A century after Georges Seurat reinvented painting, so two theater artists, inspired by his luminous vision, did the same for the American musical. Putting It Together is the unsparing and touching chronicle of how James Lapine and Stephen Sondheim pulled off their unlikely triumph, told in their words and those of some three dozen collaborators. Challenging themselves and Broadway conventions every step of the way, they created an audacious show of shimmering beauty that changed their lives and has transfixed theatergoers ever since. Here is how they did it." —FRANK RICH

"Sunday in the Park with George has always been like an oracle, bible, talisman and holy grail all rolled into one for the benefit of my artistic soul. Whenever I am feeling weary, jaded or frustrated I turn to this show to inspire me and help me fall in love again with my art. Putting it Together has pulled back the curtain on how this magical show was created and instead of diminishing its magic by shining a bright light on it's creation, James Lapine has somehow made it that much more mystical and magical. Gratefully, I now revere the show and it's creators even more than I ever thought possible." —AUDRA MCDONALD