You are here
Back to top
We Who Produce Pearls: An Anthem for Asian America (Hardcover)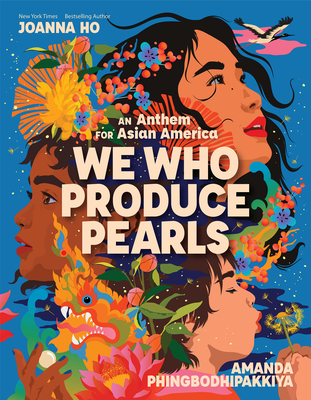 Description
---
From the New York Times bestselling and award-winning author, Joanna Ho, comes an uplifting call to action that highlights Asian American history, paired with vibrant and colorful illustrations by artist and activist, Amanda Phingbodhipakkiya.In Joanna Ho's true classic style, she creates a poetic ode that celebrates Asian American communities and their history. We Who Produce Pearls, is an anthem for Asian America that celebrates the richness and diversity within the Asian American identity and serves as a reminder of our self worth, our legacy and most of all, our destiny. Amanda Phingbodhipakkiya's signature bright and bold palette brings to light the strength and power within us all, creating a mesmerizing, stunning, and magical masterpiece that proves how we can shape our pain and struggle into one of joy and power. Together, Joanna and Amanda remind readers to rise up, speak out, and step into power.
About the Author
---
Joanna Ho is the award-winning and New York Times bestselling author of many children's books including Eyes that Kiss in the Corners; Eyes that Speak to the Stars; Eyes that Weave the World's Wonders, Say My Name, and Playing at the Border: A Story of Yo-Yo Ma, recipient of an Ezra Jack Keats Honor. Her debut young adult novel, The Silence that Binds Us, received the Asian/Pacific American Award for Literature, Young Adult Honor. She earned her Masters in Educational Leadership at the Principal's Leadership Institute at the University of California, Berkeley and has been a classroom teacher, program designer and high school administrator. Her passion for equity in books and education is matched only by her love of homemade chocolate chip cookies, outdoors adventures, and dance parties with her kids. Visit her at www.joannahowrites.com
Born in Atlanta to Thai and Indonesian immigrants, Amanda Phingbodhipakkiya studied neuroscience at Columbia University before becoming a multidisciplinary artist, educator, and activist. Her work examines the unseen labor of women, amplifies AAPI narra­tives, and affirms the depth, resilience and beauty of communities of color. Her art has reclaimed space in museums and galleries, at protests and rallies, on buildings, highway tunnels, subway corridors, classrooms, and on the cover of TIME magazine. Amanda has been artist-in-residence with the NYC Commission on Human Rights and her work has been acquired by the Victoria and Albert Museum in London, the Museum of the City of New York, the Museum of Chinese in America, and the Library of Congress. In 2023, she was appointed to the President's Committee on the Arts and the Humanities where she advises the President on how art can foster community well-being. Amanda and her husband live in Brooklyn, NY. Visit her at alonglastname.com.