You are here
Back to top
A Ship Without A Sail: The Life of Lorenz Hart (Paperback)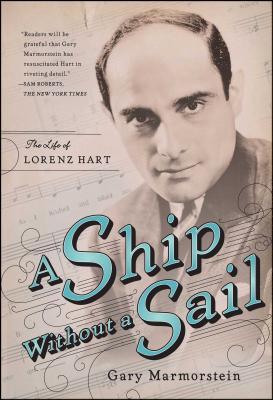 $31.99

Usually Ships in 1-5 Days
Description
---
"A deeply sympathetic biography of Lorenz Hart, the talented, troubled lyricist of film and Broadway fame. Marmorstein has done an enormous service for fans of stage and movie musicals" (Kirkus Reviews, starred review).

"Blue Moon," "Where or When," "The Lady Is a Tramp," "My Funny Valentine," "Isn't It Romantic?," "Bewitched, Bothered and Bewildered"—these are just some of the unforgettable songs that lyricist Lorenz "Larry" Hart wrote together with composer Richard Rodgers. A Ship Without a Sail is the story of the exuberant yet troubled Hart, who wrote so knowingly about the love that eluded him in his own short life.

Despite their highly successful collaborations for Broadway and Hollywood, Rodgers and Hart were an odd couple. Rodgers was precise, handsome, heterosexual, and eager to be accepted by Society. Hart was barely five feet tall, alcoholic, homosexual, most at home in a bar or restaurant, and prone to unexplained disappearances. His lyrics spin with wit, brilliance, and sophistication, yet at their core is an unmistakable wistfulness and yearning; they are all the more remarkable considering that he never sustained a romantic relationship, living virtually his entire life with his mother until his death at age forty-eight.

Gary Marmorstein's revelatory biography brings Hart and his colorful world vividly to life, and includes many of the lyrics that define Hart's indelible legacy.
About the Author
---
Gary Marmorstein has written about film, theater, and popular music for The New York Times, The Los Angeles Times, and Stagebill, among other publications, and is the author of two previous books. He lives in New Jersey.
Praise For…
---
"The whole story, joyful and unflinching, of an astounding talent. This biography really has Hart."
—Laurence Bergreen, author of As Thousands Cheer: The Life of Irving Berlin and Columbus: The Four Voyages


"Sophisticated, engaging, elegant, and packed with absorbing detail, A Ship Without A Sail is the definitive biography of Larry Hart for which all of us who love his work have been waiting. That Gary Marmorstein has captured the soaring highs and the crushing lows of that short, unhappy life so completely and so sympathetically is a truly remarkable—even enviable—achievement. And I speak of what I know."
—Frederick Nolan, author of The Sound of Their Music: The Story of Rodgers & Hammerstein and Lorenz Hart: A Poet on Broadway

"Marmorstein brings to the task just the right precision instruments for dissecting Larry Hart -- panache, sympathy and smarts. The very title of his book goes to the heart of the tortured story he tells so well. . . . He knows the period and its players inside out and along the way offers wonderful cameos of many minor figures in the story..."
—J. D. McClatchy, The Wall Street Journal


"Readers will be grateful that Gary Marmorstein, who writes about film, theater and popular music, has resuscitated Hart, also known as Larry, in riveting detail in his A Ship Without a Sail: The Life of Lorenz Hart."
— Sam Roberts

"A fine new biography of Lorenz Hart by Gary Marmorstein, A Ship Without a Sail, makes clear that Hart, over the years since his early death at age 48 in 1943, has been taken up the very society he set out, in his lyrics, to unsettle."
—David Hadju, The New Republic


"Hart has his shining hour in a new biography. . . . It's the absorbing story of a sparkling but tormented artist and a rich slice of show business history. . . . A Ship Without a Sail quotes liberally from Hart's lyrics, and Marmorstein's analysis is always interesting and often revelatory."
—John Fleming, Tampa Bay Tribune


"Marmorstein bolsters the story of Hart's rocketlike career with a wealth of factual detail. . . . [Marmorstein's] biographer's sense, his dogged researches, and his fair-mindedness constantly lead him in good directions. His account of Rodgers's controversial involvement in Hart's business affairs at his death is the best-balanced I've encountered."
—Michael Feingold, the Village Voice


"Smart and sympathetic. . . . Marmorstein brings to life the Manhattan of Hart's youth."
— Brad Leithauser