You are here
Back to top
Shermy and Shake, the Not So Nice Neighbor (Hardcover)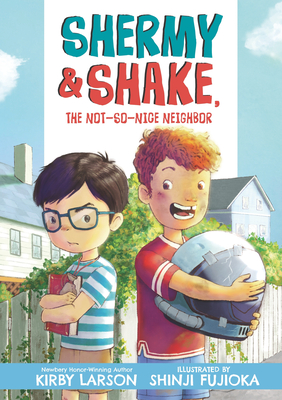 $15.99

Usually Ships in 1-5 Days
Description
---
Will summer break be a drag or a blast for meticulous Shermy when rambunctious Shake moves in next door? From Newbery Honor recipient Kirby Larson comes a bighearted chapter book about two boys' friendship.

When a new kid comes to stay with his grandmother at the house next door, Shermy's plans for a quiet, relaxing summer are completely upended. That's because Shake is nothing like Shermy. And Shermy is nothing like Shake. Shermy likes to read quietly in the shade of a tree. He knows the proper way to do a puzzle. He collects treasures in the pouch he wears around his neck, and the books on his shelves are alphabetized by author. Shake likes to play street hockey or space explorers. He gobbles up rocket ice pops and Toaster Tarts. He shows up unannounced and plays board games by his own rules. As the two boys are forced to spend more and more time together, will they learn how to get along? Or will it be one long countdown until Shake goes home? Newbery Honor recipient Kirby Larson teams up with debut illustrator Shinji Fujioka to create a humorous and heartfelt ode to summer—and to unexpected friendships.
About the Author
---
Kirby Larson is the author of numerous books for children, including the Newbery Honor–winning historical novel Hattie Big Sky, and is the coauthor of the New York Times best-selling nonfiction picture book Nubs: The True Story of a Mutt, a Marine & a Miracle. She lives with her husband in Kenmore, Washington.

Shinji Fujioka was born and raised in Hawaii, where he ignored sun, sand, and surf in favor of reading, playing video games, and drawing lots of ninjas, superheroes, and all manner of weaponry. Shermy and Shake, the Not-So-Nice Neighbor is his first book. He lives in Utah with his family.
Praise For…
---
Shake tries Shermy's patience repeatedly throughout the summer, but he can also be lively, fun, and even emotionally honest with a friend he trusts. Readers can decide for themselves whether Shermy will miss Shake when he goes home. Children new to chapter books will appreciate the book's wide-spaced lines and its many attractive black-and-white illustrations. . . .[Larson] builds a strong foundation for the Shermy and Shake series in this appealing early chapter book.
—Booklist

An improbable friendship develops over summer vacation in this understated slice-of-life story from Larson. . . Earnestly told, low-conflict vignettes affirm the compassion and understanding that friendship can require to bloom.
—Publishers Weekly

Divided into three sections, each titled by month, this fast-moving tale features short chapters and black-and-white illustrations throughout. Those looking to transition into longer chapter books will find this one accessible, and the storyline will resonate—readers will be eager to read more in this series.
—Kirkus Reviews

When Shake comes to stay with his grandmother for the summer, it's an earthquake in the quiet life of bookish Shermy, who likes everything just so. . . but somehow, as the days tick by, the experiences add up to an opposites-attract friendship.
—The Virginian Pilot