You are here
Back to top
Beyond Ridiculous: Making Gay Theatre with Charles Busch in 1980s New York (Studies Theatre Hist & Culture) (Paperback)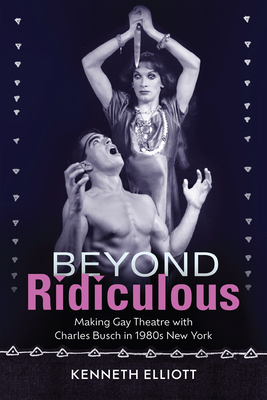 $35.00

Coming Soon - Available for Pre-Order Now
Description
---
Beyond Ridiculous tells the story of Theatre-in-Limbo, a downtown band of actors formed in 1984 by director Kenneth Elliott and playwright and drag legend Charles Busch. They launched Vampire Lesbians of Sodom at the Limbo Lounge, a raffish club in the fringes of the East Village, but it would later become the longest-running non-musical in off-Broadway history. From 1984 to 1991, Busch starred in eight Limbo productions, always in outrageously fabulous drag.

In Beyond Ridiculous, Elliott narrates in first-person the company's Cinderella tale of fun, heartbreak, and dishy drama. At the center of the book is a young Charles Busch, an unforgettable personality fighting to be seen, be heard, and express his unique style as a writer-performer in plays such as Psycho Beach Party and The Lady in Question. The tragedy of AIDS among treasured friends in the company, the struggle for mainstream acceptance of LGBTQ+ theatre during the reign of President Ronald Reagan, and the exploration of new ways of being a gay theatre artist make the book a bittersweet and joyous ride.
About the Author
---
Kenneth Elliott has directed off-Broadway plays and musicals at New York theatres such as the Public, Primary Stages, and Manhattan Theatre Club. He is associate professor of theatre at Rutgers University–Camden, and chair of the Department of Visual, Media, and Performing Arts. He lives in Collingswood, New Jersey.
 
Praise For…
---
"As 'one who was there,' Ken Elliott's Beyond Ridiculous succeeds on multiple levels. It offers a comprehensive and entertaining analysis of playwright Charles Busch's work and Theatre-in-Limbo, and also illuminates the economic and artistic landscape of New York City in the 1980s, a wildly creative but fraught decade that continues to resonate today. A must-read for anyone interested in the arts and especially the theatre."—Julie Halston, actor and comedian, 2020 Isabelle Stevenson Tony Award winner 
 

"Kenneth Elliott lovingly charts the history of not only Theatre-in-Limbo, one of the most groundbreaking companies of the 1980s, but he also chronicles a harrowing time for gay men, who were confronting the terror of AIDS and a shockingly indifferent government, and who found their deliverance in sequins, greasepaint, and wickedly subversive humor. This book is an invaluable record of our ability to transcend even the darkest times."—Doug Wright, playwright, Pulitzer Prize and Tony Award winner
 

"Beyond Ridiculous engages a queer methodology to reflect upon a friendship and collaboration between the author and Charles Busch, revealing how central theatre was to kinship and survival for the gay community in 1980s New York. As a celebration of queer solidarity in theatre, it is erudite, provocative, heartwarming, and utterly enjoyable to read."—Sean F. Edgecomb, author, The Taylor Mac Book: Ritual, Realness and Radical Performance