You are here
Back to top
Jesse and the Snack Food Genie (Food Justice Books for Kids) (Hardcover)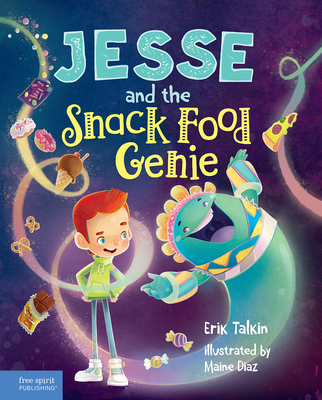 Description
---
When the Snack Food Genie appears, Jesse begins to recognize how food fuels his body.

The Snack Food Genie tempts Jesse with all that is yummy and oh so craveable, but Jesse begins to make connections between the food the Genie wants him to eat and how that food often makes him feel. As the Genie shows up everywhere and to everyone, Jesse decides to fight back.

The author combines years of experience fighting hunger as a food bank CEO with an MFA in writing for young children to craft a story of how children and adults are affected and influenced by the way food is marketed and sold. Jesse's story also addresses the ways food can fuel our bodies and change our mood.

A section at the back of the book provides additional information on snack food, advice for listening to body cues, and recipes to try.

Food Justice Books for Kids series
This series takes complex food justice issues—food insecurity, how food is marketed and sold, and food systems—and makes them kid-friendly and fun to read. In three separate but connected stories, Lulu, Jesse, and Frankie confront the Hunger Monster, Snack Food Genie, and Food Phantom. As they do, readers follow along and learn more about how each of us can take small steps toward greater(more...)
About the Author
---
Erik Talkin, CEO of the Foodbank of Santa Barbara County, is a recognized innovator and leader in America's food bank network.
Previously, he was a board member of the California Association of Food Banks and sat on the National Advisory Council of Feeding America. Committed to helping people move from simple charity to building long-term food security, Erik authored Hunger into Health and has helped create innovative, national-award-winning children's nutrition education programs such as Healthy School Pantry and Kid's Farmers Market.
Erik is also a writer and filmmaker and has served as a principal in two production companies. His short film The Gallery, starring Helena Bonham Carter, was selected for the London Film Festival. He has won an International Television Association Award for writing and directing educational drama and his theatrical work has been produced on the London Fringe.
Erik lives in Santa Barbara, California.
Praise For…
---
"Erik Talkin illustrates kids' real struggles in a society where the healthy food choice isn't often the easiest choice. This important read will help children consider how foods make their bodies feel. Grab a healthy snack and dig into Jesse's story!"
— Amber Stott, CEO & Chief Food Genius, Food Literacy Center