You are here
Back to top
Frankie versus the Food Phantom (Food Justice Books for Kids) (Hardcover)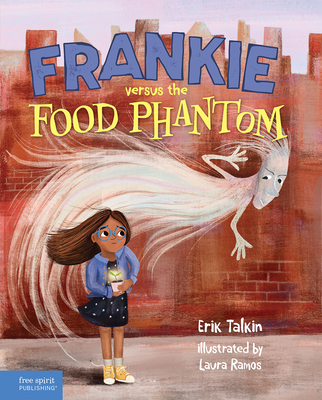 $15.99

Usually Ships in 1-5 Days
Description
---
A class project leads Frankie to learn where her food comes from and go up against the Food Phantom.

When Frankie and her classmates are asked where their food comes from, it sparks curiosity about her town's food system. "Walking home, I tell Grandpa about my project. 'We live in a place where you can buy a burger for one dollar, or pay two dollars for one banana. That doesn't add up!'" Frankie begins to unravel the mystery of how he's affecting her community and how she and her classmates can make a difference.

The author combines years of experience fighting hunger as a food bank CEO with an MFA in writing for young children to craft an honest story of how the food system can affect adults and children. Frankie's story encourages children to investigate where their food comes from and can be used in group settings to address social justice issues in an accessible way.

A section at the back of the book provides additional information on what a food system is, common problems with the food system, and what we can do about the problems.

Food Justice Books for Kids series
This series takes complex food justice issues—food insecurity, how food is marketed and sold, and food systems—and makes them kid-friendly and fun to(more...)
About the Author
---
Erik Talkin, CEO of the Foodbank of Santa Barbara County, is a recognized innovator and leader in America's food bank network.
Previously, he was a board member of the California Association of Food Banks and sat on the National Advisory Council of Feeding America. Committed to helping people move from simple charity to building long-term food security, Erik authored Hunger into Health and has helped create innovative, national-award-winning children's nutrition education programs such as Healthy School Pantry and Kid's Farmers Market.
Erik is also a writer and filmmaker and has served as a principal in two production companies. His short film The Gallery, starring Helena Bonham Carter, was selected for the London Film Festival. He has won an International Television Association Award for writing and directing educational drama and his theatrical work has been produced on the London Fringe.
Erik lives in Santa Barbara, California.
Laura Ramos has loved to draw and create since she was tiny, and is still infamous for the messes she would make as a child. She's also been a voracious reader for as long as she can remember and has been shaped by books her entire life.
Although her early career goal was to become an author, her path to children's book illustration was circuitous, involving two degrees in architecture, a number of years working in the field, becoming a mom and falling in love with children's literature all over again, and rediscovering her love for drawing.
Laura lives in beautiful Colorado with her husband, Travis, and four children.?
Praise For…
---
"Talkin tosses a seed ball of new ideas into our hands, prompting us to explore the origin of the food system—and sprouting hope that we can repair what's been broken and neglected."
— Sigrid Wright, CEO, Community Environmental Council