You are here
Back to top
Grease, Tell Me More, Tell Me More: Stories from the Broadway Phenomenon That Started It All (Hardcover)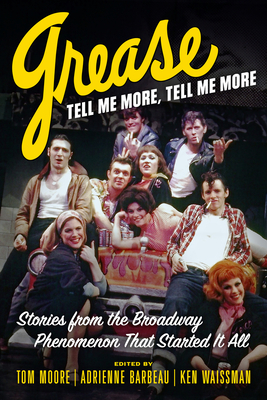 $30.00

Usually Ships in 1-5 Days
Description
---
"Grease, Tell Me More, Tell Me More is a fabulous rockin' and rollin' origin story with every juicy inspiration that went into creating it. . . . A must read for all Grease fans." —Didi Conn, Grease's "Frenchy"
 
What started as an amateur play with music in a converted trolly barn in Chicago hit Broadway fifty years ago—and maintains its cultural impact today. 
Grease
opened downtown in the Eden Theatre February 14, 1972, short of money, short of audience, short of critical raves, and seemingly destined for a short run. But like the little engine that could, this musical of high school kids from the 1950s moved uptown. On December 8, 1979, it became the longest running show—play or musical—in Broadway history. 
Grease: Tell Me More, Tell Me More
 is a collection of memories and stories from over one hundred actors and musicians, including the creative team and crew who were part of the original Broadway production and in the many touring companies it spawned.
Here are stories—some touching, some hilariously funny—from names you may recognize: Barry Bostwick, John Travolta, Adrienne Barbeau, Treat Williams, Marilu Henner, Peter Gallagher, and others you may not: Danny Jacobson, creator of
Mad About You
; Tony-winning Broadway directors Walter Bobbie and Jerry Zaks; bestselling authors Laurie Graff and John Lansing; television stars Ilene Kristen, Ilene Graff, and Lisa Raggio, and many, many more. 
Read about the struggles, the battles, and the ultimate triumphs achieved in shaping the story, characters, and music into the iconic show now universally recognized the world over.
About the Author
---
Tom Moore directed the original Broadway production, eight national tours, and two London productions of Grease in the West End. He also directed Broadway's Pullitzer Prize–winning 'night Mother, the subsequent film, and other Broadway productions receiving two Tony nominations. Moore directed many years of film and television, earning three Emmy nominations along the way. His most recent project was the documentary on the Flying Trapeze, The Flight Fantastic. Adrienne Barbeau won a Tony nomination and Theatre World Award for her performance as Rizzo in the original Broadway production of Grease. She has appeared in over four hundred films and television shows, including the hit series Maude and HBO's Carnivale. She is the author of the Los Angeles Times bestseller There Are Worse Things I Could Do as well as the Vampyres of Hollywood series. Ken Waissman discovered Grease at the Kingston Mines Theatre in Chicago where it was running on weekends in the summer of 1971. Ken and his then partner Maxine Fox produced the original Broadway production, plus eight national tours and two London productions in the West End. Ken is a Tony Award–winning producer whose iconic hits, in addition to Grease, include Agnes of God and Torch Song Trilogy. He is one of only two producers in the history of Broadway to have a musical run over 3,000 performances and a play run over 1,000 performances.
Praise For…
---
"The most comprehensive origin story of a beloved Broadway blockbuster ever written!" —RuPaul
"A rare and exuberant exploration and reminiscence of a unique and memorable piece of theater history, all in the words of the people who made it happen." —John Rubinstein
"Of the many shows in our company's repertoire, few—if any—match the box office appeal of Grease. This incredible collection of stories not only sheds light on our audience's affinity for the musical, but also serves as a touching testimony of how a collaborative community of artists can transform a few good ideas into theatre history."
—Scott Klier, producing artistic director, Broadway Sacramento
"I remember seeing Grease for the first time in previews at the Eden Theatre in 1972 and thinking, Someone set up a secret camera at my high school! The book is as much fun and authentic as the show and a delightful addition to the 'room-where-it-happened' musical theater archives."
—Stephen Schwartz, composer and lyricist,
Wicked
"Grease, Tell Me More, Tell Me More takes you on a delightful journey through the birth of the globally beloved hit show. . . . The anecdotes jump off the page, transporting you to a nostalgic time and place in Broadway history." —Beth Malone, Fun Home
"I loved Grease when I saw it at the Royale Theatre (I was twelve!) and I love this terrific book. If you're a fan of musical theater lore, you'll love getting the inside scoop—on how the show was created into the hit phenomenon we know today. In these vividly recalled stories, what remains paramount is the bond of love shared by everyone connected to this unique and beloved musical. Grease, Tell Me More, Tell Me More took fifty years to write—and it was so worth the wait!" —Danny Burstein, Moulin Rouge!
"In 1972, some exceptional young magicians, led by director Tom Moore, managed to staple a very special score to our brains. Decades after Grease opened, the memories it made and the stars it launched are as dazzling today in print as they were then on the stage. Compulsory reading for anyone who has music in their veins and who, like me, always secretly believed we were part of it too!"
—Jack O'Brien, director,
Hairspray
"Grease, Tell Me More, Tell Me More is a fabulous rockin' and rollin' origin story with every juicy inspiration that went into creating it. I was so lucky to be one little leaf on the Grease family tree, but there would have been no film without the determination, talent, and imagination of all that went before: brilliant producers, a superb imaginative director, an inventive choreographer, and an extraordinary cast. A must read for all Grease fans. A wop bop a loo bop a lop bam boom!"
—Didi Conn,
Grease
's "Frenchy"
"Solid gold! Infectious stories from the inside of the making of a Broadway hit! I couldn't put it down! Grease, Tell Me More, Tell Me More is a must-read for Grease fans. You'll want more." —Glenn Casale, director, Peter Pan
"Read about the struggles, the battles, and the ultimate triumphs achieved in shaping the story, characters, and music into the iconic show now universally recognized the world over." — 
Broadway World