You are here
Back to top
The Story of Anne Frank: A Biography Book for New Readers (The Story Of: A Biography Series for New Readers) (Paperback)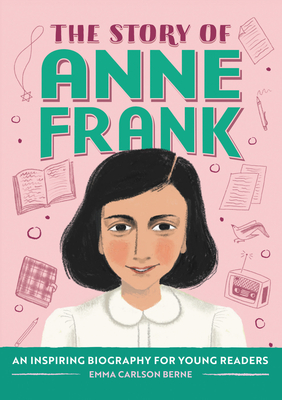 $6.99

Usually Ships in 1-5 Days
Description
---
Discover the life of Anne Frank—a story about staying hopeful for kids ages 6 to 9
Anne Frank was a young Jewish girl who lived during World War II, when people like her were killed just for being Jewish. Anne and her family were forced to hide in a tiny, secret space to try and survive, and Anne began keeping a diary to practice her love of writing and pass the time.
In her writing, she described what life was like as a Jewish person during the war. She also wrote about her hopes, dreams, and the future she wanted when she could live a normal life again. Even though she was scared, Anne believed in the goodness of people and never gave up hope that life would get better again.
The Story of Anne Frank
includes:
Core curriculum standards—Learn the Who, What, Where, When, Why, and How of Anne's life, and take a quick quiz to test your knowledge.
Her lasting change—Discover how Anne Frank helped make the world a better place for future generations, including you.
Clear definitions—Find a glossary with easy-to-understand definitions for some of the more advanced words and ideas in the book.
How will Anne's bravery and optimism inspire you?
About the Author
---
EMMA CARLSON BERNE has written many books for young readers, including The Story of Anne Frank and Books by Horseback. She loves writing about food, animals, and nature. Emma lives in Cincinnati, Ohio, with her husband, three boys, one grumpy cat, and one friendly cat.
Praise For…
---
"In this Anne Frank installment, author Emma Berne does not skip the horrors endured by the Jewish people under Hitler and his Nazi Party, but she does keep it at a level that can be processed by the target audience. Berne most certainly does not mince words as she emphasizes the discrimination and anti-Semitism experienced by a whole nation of people and her Think Tank questions encourage thoughtful application to students' experiences today. It is perfect for use in literature circles in libraries and ELA classrooms." —Melanie J. Dulaney, teacher and librarian

"I love this biography series for new readers, and the bio of Anne Frank is one of the most interesting in the series. It includes a lot of the details of Anne's young, short life that help sustain a reader's interest and includes a lot of history as well. As with other books in the series, it includes color illustrations, timelines, and bite-sized information throughout that make the content manageable." —E. Burton, ESOL teacher

"The Story of Anne Frank is great for elementary readers and has just enough details to tell about her life. I loved that each chapter had thought-provoking questions and a timeline. After the wonderful story, there were some great multiple-choice questions to check to see if the reader comprehended the story. It's a must-have book in any elementary school library or classroom." —Brian Hopkins