You are here
Back to top
I'll Drink to That!: Broadway's Legendary Stars, Classic Shows, and the Cocktails They Inspired (Hardcover)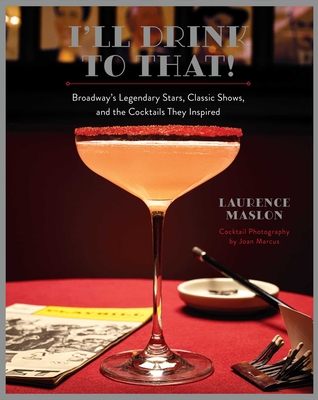 $27.99

Usually Ships in 1-5 Days
Description
---
We'd like to propose a toast…to Broadway! Learn the spirited history of drinking on stage (and off) and how to make cocktails inspired by the most iconic shows from Broadway.

Broadway has always raised a glass to celebrate itself—what's an opening night without popping the cork of a bottle of Champagne? I'll Drink to That! Broadway's Legendary Stars, Classic Shows, and the Cocktails They Inspired is a celebration of theatrical tradition, a souvenir of magic moments on stage, and a practical guide to concocting one-of-a-kind craft cocktail recipes inspired by the classics of the American stage.

I'll Drink to That! expertly mixes clever cocktails that pay homage to unforgettable Broadway shows--such as the Rainbow High from Evita and the Sidecar Named Desire--with authentic recipes for drinks that played supporting roles in beloved shows--like the legendary Vodka Stinger from Company--and shakes it up with a history of the cocktail on Broadway, detailed by one of the leading musical theater historians, Laurence Maslon.

Featured throughout are fantastic images—from intoxicating images of classic shows to portraits of effervescent stage celebrities to vintage liquor ads featuring Broadway stars. Of course, the drinks themselves get their own spotlight, photographed by the legendary Broadway photographer Joan Marcus at the iconic Sardi's restaurant, home to hundreds of opening nights over the past century.

With drinks ranging from the South Pacific-inspired Bali Ha'i Ma'i Ta'i to Mame's Cornhusker mint julep to the Hamilton My Shot, and illustrated with a wide range of rare drawings, posters, and advertisements,, I'll Drink to That! is the perfect gift for anyone who loves the theater, enjoys an elegant bend of the elbow, and wants to be part of a long and bubbly theatrical history.

30 DRINK RECIPES: Dozens of delicious drink recipes from pre-theater cocktails to cozy after-theater toddies to celebratory toasts guaranteed to earn a standing ovation!

COCKTAILS WITH A TWIST: Clever takes on Broadways shows and show tunes, including the Toast of Mayfair (Cabaret), the Bloody Sweeney (Sweeney Todd), and the Dead Thing (Beetlejuice).

STARS OF THE SHOW: Classic recipes for drinks that feature center stage in famous plays and musicals, such as the Vodka Stinger from Company and the Sazerac from State of the Union.

BROADWAY'S BUBBLY HISTORY: Dive deep into dozens of stories and anecdotes about how cocktails and drinking played a role in creating some of Broadway's greatest hits.

PHOTOS BY A LEGEND IN A LEGENDARY PLACE: Drinks photographed by the legendary Broadway photographer Joan Marcus in Broadway's most famous theater restaurant, Sardi's.
About the Author
---
Laurence Maslon is an arts professor at New York University's Tisch School of the Arts, as well as associate chair of the Graduate Acting Program. His most recent book is an updated companion volume to the PBS series Broadway: The American Musical. He is also the host and producer of the weekly radio series, Broadway to Main Street (winner of the 2019 ASCAP Foundation/Deems Taylor Award for Radio Broadcast) on the NPR station WLIW-FM. He edited the two-volume set American Musicals (1927-1969) for Library of America, as well as their Kaufman & Co., Broadway comedies by George S. Kaufman. Other books include the companion book to Come From Away, Broadway to Main Street: How Show Music Enchanted America (Oxford), The Sound of Music Companion, and the South Pacific Companion. He is the writer and coproducer of the PBS American Masters documentary, Sammy Davis, Jr.: I've Gotta Be Me, and wrote American Masters documentary Richard Rodgers: The Sweetest Sounds. He served on the nominating committee for the Tony Awards from 2007 to 2010. He has written for the New York Times, the Washington Post, the New Yorker, Opera News, Stagebill, and American Theatre. Mr. Maslon, otherwise a nice guy, mixes a mean drink.



Joan Marcus is one of the preeminent theatrical photographers working in the US today. Over the past 25 years, she has photographed more than 500 shows on and off Broadway and regionally. A native of Pittsburgh, Pennsylvania, Joan graduated from George Washington University. In 2014 she received a Tony Honor for Excellence in the Theater.
Praise For…
---
"Broadway fans can raise a glass to the theater lore in this gorgeous book, but, in addition, the thirty-plus cocktail recipes in Maslon's I'll Drink To That! are elegant, inventive, and a worthy addition to the repertoire of any mixologist--amateur or professional."
— -Tom Colicchio, Chef & Owner of Crafted Hospitality

"Let's all drink to I'll Drink To That! It's the best kind of "but what about?" book--every time I read one of Maslon's anecdotes and thought, "Ah, but what about….." it'd end up being on the next page. Delectable cocktails, mouth-watering photos, and the perfect anecdote for every libation ever served on a Broadway stage. It's a wonderful compendium. Fizzy and funny and fine, it slakes a thirst I didn't know I had."
— -Bob Mondello, NPR

"I love it. What a remarkable and--dare I say it?-- innovative book. To weave cocktails through theater and theater through cocktails is nothing short of brilliant"
— -Ted Chapin, producer and author, Everything Was Possible.

"It's one of the handsomest theater books I've ever seen. The photos by Joan Marcus. And the text by Larry Maslon-- its wit, its tone--it's what we dream theater backstage will always be. This book is a treasure and finally I have a gift to give for any occasion."
— -John Guare, playwright