You are here
Back to top
Emily Posts (Hardcover)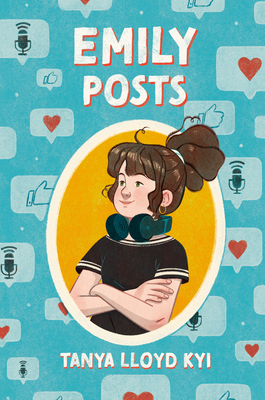 Description
---
Middle school podcast advice columnist + social media influencer wannabe Emily Laurence takes on the principal at her school to stand up for a climate march, in this fun, school-based drama for ages 10 and up. For fans of Gordon Korman and Susin Nielsen.

Emily is the ringleader for her school podcast, Cedarview Speaks — Sponsored by CoastFresh! But her plans for middle-school fame and social media influence are derailed when Amelie joins her eighth-grade class. The new arrival has a seemingly endless supply of confidence and a gift for leading people. Or leading them astray, as far as Emily's concerned.

Emily puts her old-fashioned sense of etiquette into practice. Rather than confronting Amelie, she focuses her energy on creating a podcast story about an upcoming climate march. But her story is censored by the school principal. When she protests, Emily gets cut from the podcast crew . . . and Amelie takes her place!

Can Emily use her influence to spread the news of the climate march, reclaim her place on the podcast team and expose the flaws of CoastFresh? Can she balance her impeccable manners with twenty-first century activism? And how will she ever manage to work alongside Amelie?

With a light touch and plenty of humor, Emily Posts explores issues of social media, influence, corporate sponsorship . . . and the fraught waters of middle-school friendship.
About the Author
---
TANYA LLOYD KYI is the author of more than thirty books for children and young adults, and she is almost always polite. Tanya has worked in the past as a graphic designer, an editor and a dishwasher. (She considers herself entirely qualified for that last one.) Her favourite color is blue, her favourite food is cheese and her favorite book is A Wrinkle in Time. When she's not dreaming up semi-vegan activists, Tanya teaches for the UBC School of Creative Writing in Vancouver, BC.