You are here
Back to top
Cuando llegue la noche / When Night Falls (Paperback)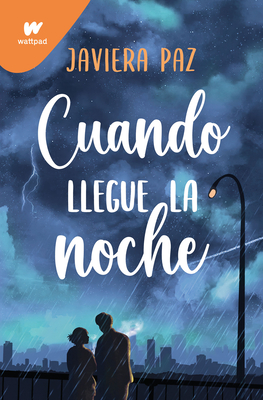 $21.95

Usually Ships in 1-5 Days
Description
---
Una historia de superación escrita por Javiera Paz, la sensación chilena de Wattpad. Si lloraste con Boulevard, esta será tu nueva obsesión.

DAMIÁN NO SE CONSIDERÓ AFORTUNADO HASTA QUE CONOCIÓ LOS OJOS DE BIANCA; ELLA NUNCA CREYÓ EN EL AMOR HASTA QUE SE ENCONTRÓ CON ÉL

Sus caminos se cruzaron cuando coincidieron una noche en el mismo callejón, al que llegaron escapando de sus caóticas vidas. Ese lugar se convirtió en Serendipia, un refugio en el que los problemas se extinguían con el humo de un cigarrillo. Bianca cree ser un torbellino que destroza todo a su paso, mientras que Damián solo la considera un rayo de luz para su vida. Él asemeja su realidad a un diluvio interminable, pero ella lo ve como una lluvia capaz de apagar los incendios de su corazón. Una historia de amor tan emotiva que querrás abrazar las almas de los protagonistas.

ENGLISH DESCRIPTION

A story of personal growth by Javiera Paz, the latest Chilean Wattpad sensation. If you cried with Boulevard, this book will become your newest obsession.

DAMIAN DID NOT CONSIDER HIMSELF LUCKY UNTIL HE MET BIANCA'S EYES; SHE NEVER BELIEVED IN LOVE UNTIL SHE MET HIM.
 
Their paths crossed by chance one night in an alleyway, as they tried to escape their chaotic lives. That place became Serendipity, a refuge where their problems could disappear with the smoke of a cigarette.

Bianca considers herself a whirlwind that destroys everything in her path. Damián considers her a ray of light. He sees his reality as an endless thunderstorm, while she sees it as a rain that can put out all fires in her heart.

A love story so touching that you will want to embrace both their souls.
About the Author
---
Javiera Paz es una jovencísima autora chilena que por ahora solo ha publicado en Wattpad. En esta plataforma, ha conseguido el éxito más arrasador en lengua española hasta el momento. Su novela, Caín, lleva más de diecisiete millones de lecturas en esta red social.