You are here
Back to top
Baba's Gift: A Persian Father's Love of Family (Hardcover)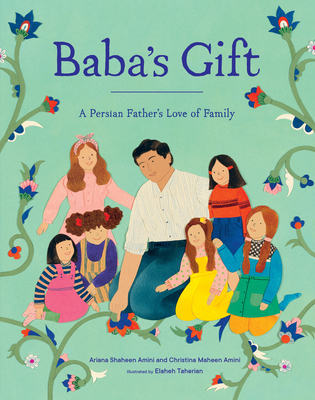 $18.99

Usually Ships in 1-5 Days
Description
---
Baba's Gift is a radiant celebration of a Persian father's love of family, from his boyhood in Iran to his new life in America.

Baba enchants his six daughters with his stories, transporting them to his childhood in Iran as they play on the flowering vines of the Persian carpet in California. He tells the story of a determined young man who comes to the United States, the challenges of leaving his Persian family, and the unfolding of his new American life.

This picture book is written in the voice of two daughters telling the story of their Baba ("father" in Farsi).  It weaves together the love of two countries with the love of family.

A perfect read-aloud for parents, grandparents, and teachers, the story inspires curiosity about other cultures and connection between generations.

Baba's Gift--full of delight, tenderness, and vibrant illustrations by award-winning Persian illustrator Elaheh Taherian--sparkles with the beauty of love and family around the world.
About the Author
---
ARIANA SHAHEEN AMINI graduated with an MFA in Writing for Children from Vermont College and a BA from UC Davis. She loves teaching children and volunteering in schools. She has written essays for the San Francisco Chronicle Magazine and Mothering magazine, as well as the gift book You Owe Me: Fifty Favors for the Mom-to-Be. As a child, Ariana loved dancing, making up plays, and jumping from Persian carpet to Persian carpet with her five sisters. As an adult, she loved daily talks with her dad over tea and interviewing him about his extraordinary life. She lives with her husband and two creative kids in San Anselmo, CA.

CHRISTINA MAHEEN AMINI was taught to read at an early age by her older sister, Ariana, and from that day on, she has loved the magic of books. Christina is the executive publishing director at Chronicle Books, and is happy to be a professional collaborator and creator--bringing new ideas, new artists, and new voices to the world every year. Christina has spoken on creativity and collaboration at AdobeMax, 99u, In/Visible Talks, Creative Mornings, and as an SFMOMA museum guide. She lives with her wife and two kids in the San Francisco Bay area, where all six Amini sisters live.

ELAHEH TAHERIAN graduated from the Illustration as Visual Essay MFA program at the School of Visual Arts in New York. Prior to this, she received her BFA degree from Shahed Art University and a MFA degree from Art University in Tehran, Iran. She has illustrated several children books and her works have been published in magazines and featured in many exhibits. She lives in Brooklyn, New York.
Praise For…
---
"A poignant story woven with a reminder that no matter how far we journey, family is always with us."--Kirkus Reviews

"Baba's Gift is a loving tribute by the authors to their father, Baba, that adds a welcome voice to picture books about immigrant experiences."--Booklist

"It's a love letter for fathers' everywhere."--Motherly

Love permeates every page of this soulful, tender book." 
–Alison McGhee, #1 New York Times bestselling author of Someday

"The first words that Iranian children learn to write in school are بابا آب داد which sound like "Baba aab daad," and which mean "Baba gave me water." Built into this very first sentence is the role of a father as a giver, of water, certainly, but also the stories that will define and develop the imagination and courage of his family. In this gently-woven story of an immigrant father's generous act of offering the best of both the worlds he inhabits to his beloved daughters, Baba gives the gift of himself. There's no better gift than that."–Daniel Nayeri, author of Everything Sad Is Untrue: (a true story), winner of the Michael L. Printz Award, NPR Best Book of the Year, and New York Times Best of the Year

"A story, both familiar and unique, it should be celebrated by families, libraries and classrooms." –Cindy Harrison, Former Director of Bainbridge Island Public Library

"A tender and enchanting tale about culture, family history, and the ties that bind us to one another across distances."
–Jasmin Darznik, New York Times bestselling author of The Bohemians

"What a touching tale! Baba's Gift is a lovely and loving tribute to a father's journey and his legacy." 
–Annie Barrows, New York Times bestselling author of the Ivy & Bean series

"Baba's Gift beautifully captures the magic and love of family. Universal in its appeal and vibrantly illustrated, this children's book transports young readers and their parents to the fragrant garden of Baba's childhood."–Gail Siegel, Educator and ForWords Literacy Lab Founder

Elaheh Taherian's intricate collage illustrations blossom and evoke a father's love for his daughters—and theirs for him. This book is a gift."
–Amy Novesky, award-winning author of Girl on a Motorcycle, Cloth Lullaby: The Woven Life of Louise Bourgeois; Me, Frida; Georgia in Hawaii; Imogen: The Mother of Modernism and Three Boys